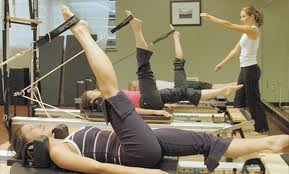 We recommend new clients begin with a series of private sessions one on one with an instructor. Private sessions are tailored for the individual based on age, ability and goals.
Want to work out with a friend? A semi-private session may be best for you. In a semi-private session two people work with an instructor at a time and schedule convenient for them.
Group classes involve 4-10 people who work with a single instructor. Classes are held daily.
Private and semi-private Sessions are offered in 1-hour and half-hour lengths. Group classes are generally one hour, though we do sometimes offer half-hour group classes.
A five minute period is used at the end of each session for equipment cleaning and to prepare for the next session.
To see our current schedule and/or sign up for a class, click here.
© 2011 Pilates Studio of Springfield. All Rights Reserved