Group classes involve 4-10 clients working simultaneously with an instructor on the Pilates apparatus. In order to qualify for group classes you must meet the following requirements:
Have a healthy body with no major health issues
Have completed at least three private sessions
Group classes are scheduled by the studio based on demand. Students can come to any regularly scheduled group class, as long as there is availability. We usually try to have at least two group classes per day, with one each day of the weekend.
In addition to our per-class pricing, we offer monthly memberships for Group Classes. These memberships allow you to attend any regularly scheduled class for a monthly fee.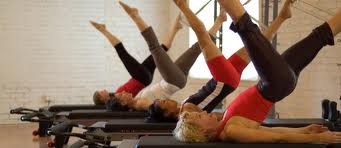 Group classes are 55 minutes in length and include a warm-up and cooldown period.
To see our current schedule and/or sign up for a class, click here.
Per-Class Pricing
| | |
| --- | --- |
| Single Class | 25 |
| 10 Classes | 225 (22.50 per class) |
| 20 Classes | 400 (20.00 per class) |
Group Memberships
| | |
| --- | --- |
| One Class per Week | 100 per month |
| Two Classes per Week | 130 per month |
| Unlimited Classes per Week (3 month committment) | 159 per month |
| Unlimited Classes per Week (no committment) | 169 per month |
© 2011 Pilates Studio of Springfield. All Rights Reserved